DAS Offers Courses About Astronomy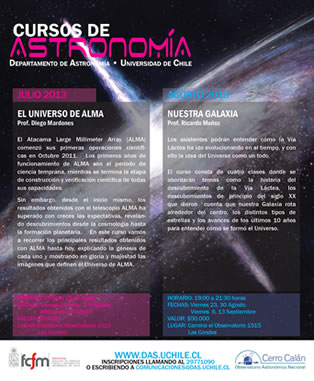 As every year, the Department of Astronomy (DAS) at the Universidad de Chile, offers courses for all lovers of the universe, where the only requirement is the desire to learn.
For this year during July and August , the academic of DAS , Diego Mardones, will dictate the workshop "The ALMA Universe", which will address the national scientific work done with this revolutionary telescope and the main results obtained, explaining the genesis of each one and showing the images captured.
Also, the academic Ricardo Muñoz offer the course "Our Galaxy", where attendees can learn how the Milky Way has evolved over time, addressing topics such as the history of the discovery of the Milky Way, the discoveries of the early twentieth century which revealed that our galaxy rotates around the center, the different types of stars and advances of the last 10 years to understand how the universe was formed.
Each course has four classes which are held in offices of DAS in 1515 Observatory Road, Las Condes (Cerro Calan), on Friday from 19:00 to 21:30 hours with some exceptions. Registrations are open and costs is $ 50,000 there discounts for students and staff of the Universidad de Chile.
For more information visit www.das.uchile.cl. For registration write to comunicaciones@das.uchile.clor or calling (02) 29771090.