Presentation of the book "Children of the Stars"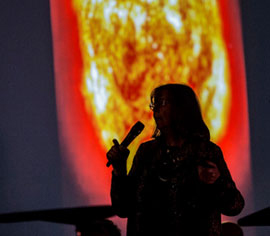 Maria Teresa Ruíz
Astrónoma DAS - U de Chile
The event was held in the Centro Araucano Park, in addition the attendees were able to observe through portable telescopes one of the most beautiful objects of the night sky: The planet Saturn.
"A wonderful tour of the origins of the universe and of the human being," is the cover story of this 97-page text written by the professor of the Universidad de Chile, Maria Teresa Ruiz, published by Penguin Random House.
"Chile is a window into the universe where there are unique conditions for the development of astronomy," stated the Director of the Center for Astrophysics CATA and President of the Chilean Academy of Sciences to start their audiovisual presentation a true journey through the cosmos where Were viewed from the most modern international telescopes installed in the north of our country, passing through galaxies and stellar maternities, until the explosive death of the stars: Supernovas.
ABOUT THE BOOK
Children of the Stars, is the re-edition of the eponymous book edited in 1998 by Ediciones B. This new edition published by Editorial Penguin Random House includes a series of content updates that make it an excellent reading option for people who want to Begin to know about astronomy. The book is available in the main bookstore chains of the country.