Mountain top to be blasted off for Extremely Large Telescope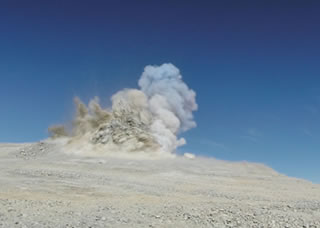 On 19 June 2014, a major milestone for the European Extremely Large Telescope (E-ELT) was passed. Part of the 3000-metre peak of Cerro Armazones, the future site of the telescope, was blasted away as a step towards levelling the summit.
This blast was only the first of several steps in this process. The first civil works at Cerro Armazones started in March 2014 and are expected to take 16 months. These works include the laying of a paved road, the construction of the summit platform and the construction of a service trench to the summit.
A groundbreaking ceremony, to celebrate the blast, took place 20 kilometres away at ESO's Paranal Observatory — site of the Very Large Telescope (VLT). The ceremony was attended by several VIPs from ESO Member States and Chilean authorities as well as by ESO staff.
During the ceremony, the professor of Astronomy Department (DAS) at the University of Chile and president of the ESO-Chili Council, Luis Campusano said this telescope "is destined to be one of the wonders of the world. The E-ELT can inspire thousands of children in the II Region and Chile to make great achievements in any field, for the welfare of our country and the world. Besides, and on behalf of Chilean scientists, he said that "astronomers are thrilled, excited. This project is a tribute to many people who made this possible, also the governments of Chile and Europe. This project is inspiring for our society and our students."
SCIENCE WITH E-ELT
Extremely Large Telescopes are considered worldwide as one of the highest priorities in ground-based astronomy.
With the start of operations planned for early in the next decade, the E-ELT will tackle the biggest scientific challenges of our time, and aim for a number of notable firsts, including tracking down Earth-like planets around other stars in the "habitable zones" where life could exist — one of the Holy Grails of modern observational astronomy. It will also perform "stellar archaeology" in nearby galaxies, as well as make fundamental contributions to cosmology by measuring the properties of the first stars and galaxies and probing the nature of dark matter and dark energy. On top of this astronomers are also planning for the unexpected — new and unforeseeable questions will surely arise from the new discoveries made with the E-ELT.
ESO - DAS.