Professor DAS will preside CONICYT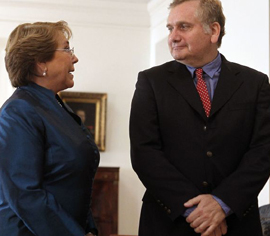 Presidenta Michelle Bachelet y Mario Hamuy
The recently announced National Prize of Exact Sciences and professor of Department of Astronomy, Universidad de Chile, professor Mario Hamuy Wackenhut, will take over the presidency of the National Commission for Scientific and Technological Research, CONICYT. This news was announced by President of the Republic, Michelle Bachelet, accompanied by the Minister of Education, Adriana Delpiano, in La Moneda on Monday 21 March.
Prof Hamuy will also assume the post of scientific advisor to the president, shall coordinate the committee of the creation of the future Ministry of Science and Technology.
Professor Mario Hamuy studied physics at the University of Chile, and did his PhD in astronomy at the University of Arizona, United States. Throughout his career he has 151 publications since 1984, which includes co-authorship of five articles published in the journal Nature. The impact of their research worldwide is reflected in the high number of citations of their papers. 15 publications accumulate approximately 5,100 citations, of which six were among the 100 most cited in all the discipline of astronomy and astrophysics in their respective years of publication.